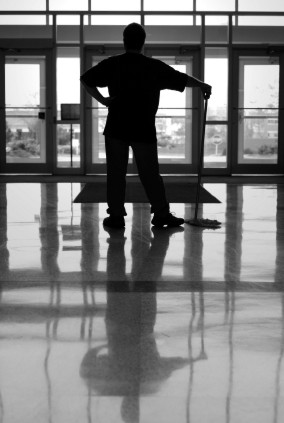 Here are some reasons to consider hiring an outside professional office cleaning service…
Less stress and worries– Why take on the extra responsibility of having to keep your office space clean? Without a professional janitorial staff member, you would need to dedicate a chunk of your work time to cleaning. Do you really want to spend a portion of your day on taking the trash out, cleaning restrooms, monitoring cleaning supplies, vacuuming and dusting, and more? Hiring an office cleaner creates more time for productivity. Consider outsourcing an experienced janitor to leave you and your coworkers with less stress and worries.
Save Money– Having your workplace cleaned on a daily or nightly basis will prevent illnesses from being circulated around the office. Experienced janitorial companies have the power, tools, and knowledge to disinfecting the germs away. Dust, mold and mildew are also common allergens that office cleaners manage. Missed work-days will certainly cost your business money over time.  In addition, another reason to hiring a professional commercial cleaning company is you won't have to pay the expenses of an inside employee. Avoid paying employee benefits,  overtime, insurance, etc.; these costs add up significantly. Save your company money by allowing a professional office cleaner clean your work facility.
High Quality Cleanliness– Have you ever heard the saying, "You get what you pay for?" This applies to having your office professionally and exceptionally cleaned in the most positive way! An office cleaner is properly trained to maintain the cleanliness of your facility. The duties of the trade include general cleaning services. In particular, some general cleaning entails restroom cleaning,  dusting, trash removal,  disinfecting, floor cleaning, glass care,  monitoring supplies, dusting and polishing furniture,  spot cleaning walls, and much more.  Another asset to hiring a professional office cleaner is they have the knowledge and experience of knowing when your facility requires special and deep cleaning care. This may include floor care services such as cleaning and extracting carpets, stripping and waxing VCT floors, machine scrubbing floors, hard floor surface cleaning, upholstery cleaning, fabric partition cleaning, and much more. A professional janitorial business has the capability and tools for all of your special cleaning needs.  Before hiring a commercial cleaning company, DO YOUR RESEARCH! Meet with the cleaning company; ask for references and any questions you may have. Discover why there is nothing better than having a professional office cleaning staff care for the cleanliness of your facility.
Call Apple Corps, Inc. to find out how we can professionally clean your office and work facility.
781-335-6900
"We don't cut corners, we clean them!"