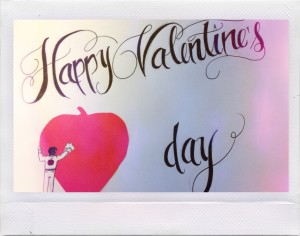 Two years ago, we posted a few of our Valentine's Day cleaning tips on how to remove stains that often occur on Cupid's day. (Check out what we had to say: http://www.applecleaning.com/how-to-clean-valentine-stains ). Upon the arrival of the lovely day, we compiled a new list of common stains that need some extra TLC.
Bubble Gum: Gum: The cure to bad breath and a first date must-have. Accidentally get gum on your clothing? No problemo. Follow these steps for an easy removal: Place the article of clothing in a plastic bag. Tip- Don't allow the gum to touch the bag surfaces because it will stick. Secure the bag by sealing tightly and place into a freezer (for 2+ hours).*  Take the bag out of the freezer and remove your clothing. Place your garment on a  clean surface and begin to peel away at the bubble gum. This step may require a blunt knife or similar object that is strong enough to chip away at the gum's surface.  After the gum is peeled off, machine wash your garment to ensure all sticky surfaces are removed.
*Note: If you don't have a freezer, try applying an ice cube on top of the gum until it becomes frozen cold . Use the knife or a similar blunt object to remove the gum from the clothing.  In contrast, another solution would be to apply direct heat (using a hair dryer). Gently peel away gum when it is warm and elastic-y. Machine wash once gum is removed.
Lipstick: Pucker up! Lip stick is a Valentine's Day necessity. Created with moisturizers, wax, oils, and colored pigments, this makeup item is often worn on a Valentine's date. Lipsticks are made for long lasting and smudge proof wearing; making it a stubborn stain to remove from fabric. Smudged a smooch on your clothing by mistake? Try this cleaning trick. Items you will need are: Liquid dish soap (like Dawn), cold water, and a clean white rag (and a washing machine for the ultimate clean). Dab a small amount of liquid dish soap onto the stain's surface. Allow the soap to work a bit by letting it sit for about ten minutes. Next. take a clean white rag and dip into cold water. Blot the rag onto the soapy stain's surface. (BLOT: A gentle tap motion. Don't wipe the stain with circular cleaning motion for that will only push the stain further into the fabric surface.) Rinse your rag and repeat this process several times until the stain completely disappears. Finally, machine wash your garment in cold water.
Red Sauce: Chicken Parmesan, Spaghetti & Meatballs, Bolognese; All scrumptious dishes enjoyed by couples on a romantic occasion.  Spills happen quite often while out to dinner. Don't panic! We have a easy solution for removing red sauce stains. Like the lipstick removal process, you will need liquid dish soap, a clean white rag, and cold water. In addition, have a bottle of white vinegar and lemon juice handy. If the stain is fresh, rinse immediately with cold water. Next, apply liquid dish soap to the stain. Allow the soap to work for a few minutes by letting it sit on its own. Take a clean white rag, dip in cold water, and blot the soapy stain. Rinse rag and repeat. If the stain is being stubborn, try applying some white vinegar by dabbing onto the rag and blotting the stain. Also, try lemon juice. These two items are known to be a great stain combat. Once stain is removed, machine wash your article of clothing in cold water.
Rose Petals: Rose petals spread throughout a room is a romantic gesture and a beautiful exhibit. However, rose petals can cause some serious stains on carpets or other similar areas. Thus, making it a bit tricky to clean. No worries; we've got the magical potion to erase rose petal stains from carpeted floors. Liquid dish soap, hydrogen peroxide, cold water, and a clean white rag are the items to use for this cleaning technique.  Begin with the liquid dish detergent. Apply to all stained spots throughout the floor. Allow the soap to work on its own for ten minutes. Next, take a damp clean white rag (rinsed in cold water and squeeze out excess water), and dip in a bowl of hydrogen peroxide. Blot clean the stains with the hydrogen peroxide soaked rag. Continue this step until the stains disappear. Next, take a clean white rag (not the same one you used for the hydrogen peroxide step), and dip in cold water. Blot rinse the stains with the cold water. Soak up all hydrogen peroxide and soapy areas.
Call Apple Corps for all of your office cleaning & janitorial needs (781) 335-6900
"We don't cut corners, we clean them!"