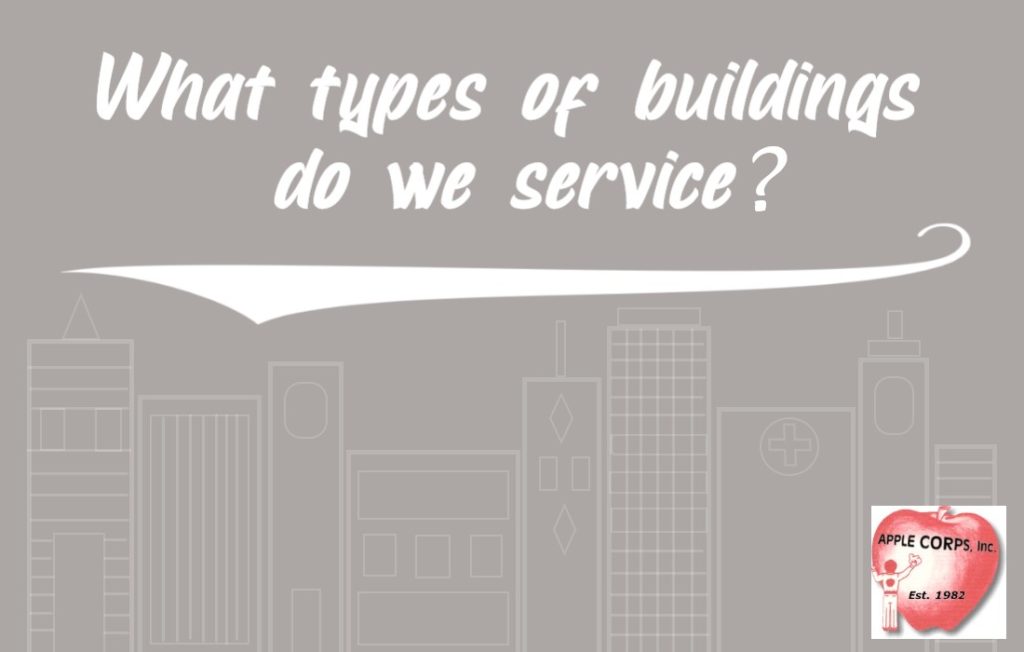 Commercial cleaners have a wide range of experience maintaining many types and styles of properties. Each building contains unique qualities that require specific janitorial services and needs. In Boston, South Shore, North Shore, and Greater Boston area, facilities are cleaned every single day and night. Cleaners are typically the last ones to enter a building at night; making sure the facility is spotless and sparkling clean for the employees to arrive to the next morning.

There are many different types of industries that exist in our city; From banks and schools- to medical facilities; Our professional janitorial service cleans over 2 million of square feet every night. Many factors contribute to the frequency of cleaning: Square footage, type of business, foot traffic, number of employees, and location. Here are a variety of commercial properties that Apple Corps cleaners service:
Banks / Financial Institutions
Car Dealerships
Medical Facilities & Dental Offices
Churches & Houses of Worship
Colleges & Schools
Condominium Common Areas
Industrial Warehouses
Factories
Retail Stores
Health Facilities
Spas
Office Buildings
Construction Job Sites
Studio Spaces
& MORE!
Commercial properties need to be properly cared for health (less germs and sick days) and wealth purposes (save money by using an outside cleaning service). These two reasons alone should be a major deciding factor in choosing a janitorial company. But, having a cleaning business care for your facility can prolong the life of your floors, the aesthetics of your buildings, and increase of overall happiness of your employees and customers.
To learn more about what types of commercial properties we service in Massachusetts, call us today!
781-335-6900
"We don't cut corners- We clean them!"