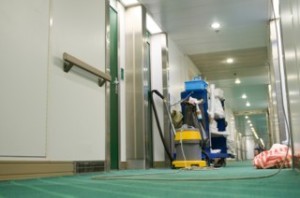 Hiring a professional office cleaning company to perform nightly janitorial services in your work facility can have multiple positive effects. Knowing the benefits of letting the professionals do the cleaning will make you question why you've waited so long to hire an outside cleaning service. Did you know that  professional cleaners can save you time and money? Experienced janitors will maintain  proper cleaning protocol. Not sure when to have your carpets cleaned or VCT floors stripped and waxed? Don't worry;  professional cleaners will monitor and provide floor care as needed.  Most importantly, a professional cleaning service will sustain a sanitized and clean work atmosphere for your facility. Here are a few more top perks to hiring an outside office cleaning service:
1.) Cut costs and save money. Some people may think that it's too costly to hire a company to come in and clean your office nightly. But, an experienced commercial cleaning company will save you money by not having to hire a fulltime employee to clean. The key assets to this is you won't need to pay benefits, sick leave, and other employee payroll components. Also, you won't need to worry about having to hire the right employee who will stay long term.  Depend on a  janitorial service to provide long term and professional quality cleaning care.
2.) Save valuable employee time. Asking your own employees to divvy up the cleaning responsibilities is taking away profitable time from work. Let your employees focus on their own workload without having to worry about the cleanliness of the office.  Hiring an outside office cleaning company will allow your workers to spend time on their own tasks rather than getting distracted by cleaning duties.
3.) Stress less.  Having a janitorial company can actually save your company money by not having you spend extra on cleaning materials. A  professional office cleaning service can provide the chemicals and tools to keep your facility's surfaces sanitized.  Vacuum cleaners,  floor care machines,  mops, disinfectant sprays, dusters and many other cleaning supplies can be expensive items to purchase. Avoid having to buy and maintain these materials by hiring an outside commercial cleaning company. Most cleaners will take their cleaning tools home with them after they perform a cleaning. This saves you from creating room in your office for extra cleaning materials.
Passing off the cleaning responsibilities to an outside professional cleaning service has many amazing perks. Let an experienced cleaning team help you today.   To learn more about what Apple Corps commercial cleaners do for you, call us at 781-335-6900.
"We don't cut corners, we clean them!"