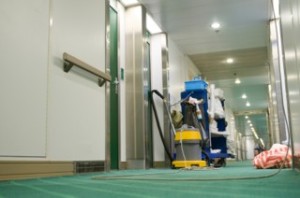 October 2, 2017
On a beautiful brisk Monday morning, Anna decided to get an early start to her workday right before her staff were to show up.  Her motivation to get the day started was enhanced by the thought of showing up to a nice and clean work facility. On the contrary, this was not the case. At first glance, Anna might as well have been greeted by the grim reaper.  Fingerprints and marks on the glass doors immediately captured her attention. The front entrance foyer was strew with cobwebs; a horrific sight! What creepy crawlers could be lurking in the depths of the dust? Spiders, moths, flies, or more. Anna thought, "Why didn't the cleaners dust the cobwebs away? If the front foyer looked this scary, what about the rest of the office's appearance?"  Granted this was the first Monday of the month of October; However, that was no reason for an office to actually represent a haunted house aesthetic.
Anna quickly stopped into her office to drop her belongings off  before inspecting the remainder of the building.  She glanced over to her floor, noticing that her trash barrel was overflowing. How terrifying! Anna was on a mission now to review all cleaning areas. First journey to embark on: The restrooms. Restrooms are so important to keep clean because of sanitary and health reasons. Anna stumbled upon several spooky stains spotted along her walk there. Coffee spills and food crumbs plagued the floors. More cobwebs and dust covered the ceiling and walls' surfaces. This uncanny situation seemed to be getting horrifically worse. She felt as though that that was a true portrayal of a spellbound scene. It gave the feeling as though ghosts had possessed the halls and trashed this work space during the weekend.
Eerie tension emanated in the hall atmosphere. Was she going to be spooked by a zombie or witch along her journey through the office? The way things were looking, this seemed to be the case. Anna dreaded seeing the bathrooms. Opening the door, it was not the BOO-tiful sight that she desperately hoped for. Urine stains, dirty toilets, putrid partitions, filthy floors, sickening sinks.. oh my!  The spine-chilling room was straight out of a horror movie. With these nightmarish conditions, what would Anna's coworkers and customers think of her business?  This could be a poor reflection on the quality of her company. Not only that, her coworkers will be upset. A monstrous headache was to ensue.
Anna was beyond fed up with complaints and ready to make the switch to a new company that could fulfill the high quality cleaning standards she needed in her commercial property.  She wanted to convert her "haunted house"-looking office into a clean and healthy work environment.  After researching, Anna found Apple Corps, a local Massachusetts cleaning company. With 35 years of experience in the cleaning industry, their quality control programs, customer service, and high quality cleaning performance, she decided to reach out to them for help. Without hesitation, Anna made the switch and hired Apple Corps cleaning to service her work facility. Her commercial property transformed from a horror show to a clean and sanitary workplace.
Call Apple Corps today for a free office cleaning estimate. 781-335-6900
"We don't cut corners, we clean them!"