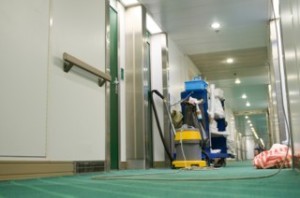 Hiring a commercial cleaning company can be a process if you're unsure of where to begin. Researching, looking for references, reaching out to businesses, meeting for quotes, and more. All of these steps lead to the decision-making process; which can be hectic and time consuming if you don't know where to begin. Compiling a list of questions to address when looking for a commercial cleaning company will allow you to be more confident to hire one.
Our cleaning professionals have the right questions to address when meeting or speaking with a janitorial service. Consider some of these important questions below:
1.) Are you a franchise or local company?
-Knowing this answer can help you better understand how the company might operate. Or, give you more insight on the business itself.
Apple Corps Cleaning is located out of Weymouth, MA. Our family owned janitorial company has been in business for 37 years; Servicing commercial properties from Boston-> South Shore->Framingham->Taunton-> AND MORE!
2.) Are you bonded/insured?
-When hiring a commercial cleaning business, make sure the ask this very important question. Insurance is essential in the janitorial industry. Being bonded can give you more security in knowing that the cleaners are taking proper protocol.
Yes- Apple Corps Cleaning is bonded/insured. We provide certificates of insurance to all customers.
3.) Can I have a list of references?
-Asking for references should be a key step in the initial stages of outsourcing a cleaning service. Check with current or past customers to chat about the professionalism of the company. Prepare with a list of topics: (How long have they been servicing; What is the communication like; How is the quality of cleaning; Etc.)
Apple Corps will provide references for you.
4.) Do you have a long term contract?
-Review and understand what you are signing up for when you hire a new company.
Apple Corps does doesn't have any long term contracts.  A simple 30 day cancellation policy, if need be.
5.) Who do I contact if there is an emergency?
-Check to see if the company has a full time office staff. In case of daytime emergencies, requests, invoicing questions, or more.
Our office is open Monday-Friday, 8:30AM-5:00PM. We are reachable via phone, e-mail, or by our online customer care center.
6.) What are the types of cleaning services you provide?
-General cleaning tasks should be included in a nightly cleaning routine. These typically include: Trash removal, dusting, floor care, restroom cleaning, and more. Additionally, a professional commercial cleaning may also offer carpet cleaning, VCT floor care, hard floor cleaning services, odor removal, water damage cleaning, post construction cleaning, upholstery cleaning, disinfection services, window cleaning care, etc. Ask what the company offers.
Our highly skilled and experienced cleaning crew offers these services.
7.) Do you do background checks on your cleaners?
-Bringing the subject up will allow you to feel more trust in knowing that a responsible person is in your commercial facility.
Yes we perform background checks on our staff. It is important for us to ensure we have a reliable, trustworthy cleaning team.
8.) What is your quality control protocol?
– This question is extremely imperative in reaching a high quality standard of cleaning.
Apple Corps' supervisors frequently inspect our customers' facilities to make sure all specifications are being taken care . Also, it allows us to make sure our cleaners are on task and improving to the best of their abilities. Our online customer care center is available 24 hours for you to submit a quick survey grading the quality of cleaning. 
Our company provides professional commercial cleaning services to offices, schools, medical facilities, health clubs, car dealerships, houses of worship, industrial facilities, post construction job sites, and much more. Call us for a free office cleaning quote at 781-335-6900.
At Apple Corps, "We don't cut corners, we clean them!"