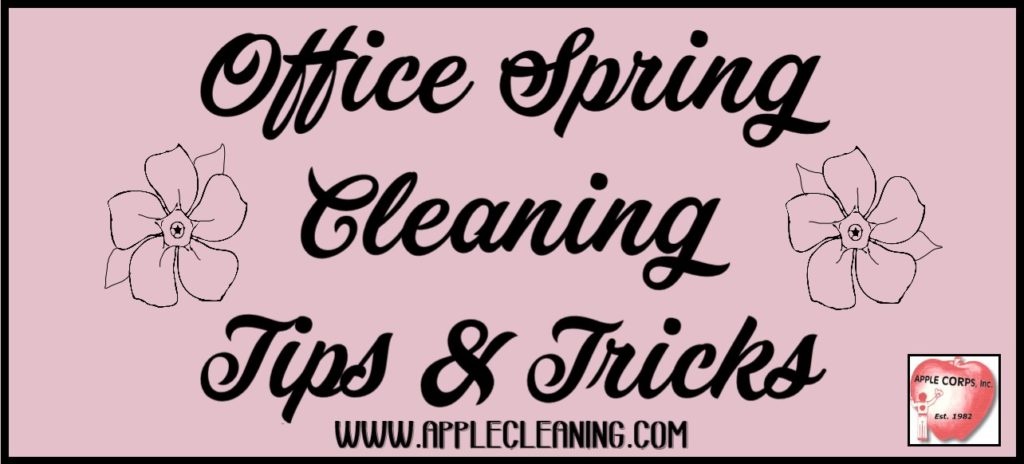 It's safe to assume that it's officially spring when the outdoors appears to be flurrying with snow (it's only pollen), and when white colored vehicles seemed to have received a yellow paint job- Pollen strikes again! Seasonal allergies affect millions or people; exclusively being triggered by pollen from trees, weeds, grass, and airborne mold spores. Feeling sick at work can be a huge distraction. Some may even have to call out of work because of how sick they feel. Itchy eyes, coughing, sneezing, sore throat, and fevers… Sounds all too terrible. Allergies are a BUMMER! There is a way to prevent allergens from affecting everyone in the office; Cleaning. By cleaning, we mean extensive and thorough services done with consistent janitorial services performed regularly.
 Design a Cleaning Schedule:
Start with a deep thorough cleaning. Some offices might still be in a winterized mode; Covered in cobwebs, dusty surfaces, and salty sandy floors. If a property hasn't been maintained in a while, it will end up taking more time to clean and demand more labor. Once an initial deep spring cleaning takes place, it's easier to keep up with the polished look by regularly having general cleaning done. Each individual commercial property will require a certain amount of cleaning days depending on the size, location, industry type, and foot traffic. The trick to figuring out a good routine is to talk with a professional who can help determine how often your facility should be serviced based on their cleaning knowledge and experience.
Work from the top of the ceiling down to the floors. Dust, dirt, and allergens fall to the ground once unsettled. Dust using extendable poles or other elongated tools to reach the tops of the walls and ceiling. Covering furniture and surfaces with drop cloths will avoid your office belongings from getting covered in even more dust; Thus creating more work and time spent dusting.
Spring is a good time to purge. Here are some places to consider decluttering in an office:
Desktops
Filing Cabinets
Refrigerators
Kitchen Cabinets
Desk Drawers
Throw away trash, recycle old paperwork, and donate unused items.
Use a HEPA Vacuum Cleaner
HEPA (high efficiency particulate air) vacuum cleaners have proper filters that trap the tiny particles that a conventional vacuum cleaner can not collect. Pollen can be successfully cleaned within a workspace by using the HEPA vacuum cleaner.
To learn more about the importance of spring cleaning, call Apple Corps! We provide professional commercial cleaning services to facilities in South Shore, North Shore, Boston, Greater Boston, and more!
781-335-6900
"We don't cut corners- We clean them!"