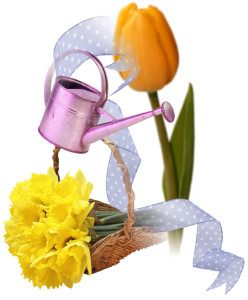 Spring is in full bloom!  With the bright sun shining through your office windows, the amount of sand, dirt, stains and rock salt become more visible on carpets, windows, and all surfaces. Follow our office cleaning check list throughout the month of May  in order to maintain a clean workspace.
1.) De-clutter: Clear off all desks. Clean out closets. Remove objects from shelves.  Empty refrigerator. Throw away old paperwork, trash, etc. Donate unused goods.
2.) Dust: Dust all surfaces. High & low! There no such thing as a surface that's too high to dust. Try using a feather duster with an extendable handle. Can't reach those high ceilings? Try using a step stool. If that's not tall enough, hire a professional cleaning company to take care of the unreachable spaces.  Make sure you dust all corners of ceilings, fans, vents, etc. Same goes with low areas in your office.
3.) Windows & Blinds: Wash the interior and exterior of all windows. Hire a professional cleaning company to clean all blinds. Have curtains professionally cleaned, as well.  Blinds and curtains contain dust, dirt, pollen and allergens. Make sure all window surfaces are washed.
4.) Refrigerator:  Remove all contents from the refrigerator. Throw away anything expired. Defrost the refrigerator. Wash, scrub and wipe down the interior surfaces of the refrigerator. Wash and disinfect the exterior surfaces.
5.) Microwave: Place a damp paper towel in microwave. Heat for one minute. Let sit for five minutes allowing the heated paper towel to break down the food particles in the microwave.  Next, wipe down with the damp heated paper towel. Throw away the used dirty towel and wipe down the interior surface with a clean dry paper towel.
6.) Restrooms: Perform a deep thorough cleaning of your office restrooms: Showers, toilets, floors, sinks, partitions, trash receptacles (interior and exterior),  and walls. Machine scrub hard floor surfaces. Don't miss any corners, behind toilets, or beneath trash receptacles.
7.) Carpets & Upholstery: Spot clean all stains. Have a professional cleaning company to extract dirt, clean, and deodorize your carpets at least once a year. Have your upholstered furniture shampooed by a professional janitorial company.
8.)  Disinfect: Using a clean rag and disinfecting solution, wipe and disinfect all heavily handled items throughout your office: Door handles, light switches, telephones, etc. Disinfecting kills germs and decreases sick days in your office.
9.) VCT Floors: Your VCT floors probably suffered a lot of damage during the winter months.  Bring them back to life by having a professional cleaning service to strip and wax all VCT floors for shiny, beautiful floor surfaces.
10.) Replenish Supplies:  Restock your supply closet: Paper towels, toilet paper, soap, trash liners, light bulbs, and air fresheners.
Call Apple Corps, Inc. today to take care of your office cleaning needs (781) 335-6900. We offer professional janitorial services including:  Carpet cleaning, upholstery cleaning, VCT floor maintenance, supplies, and general cleaning services.
"We don't cut corners, we clean them!"- Apple Corps, Inc.