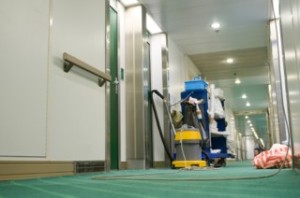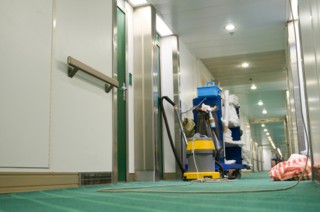 We get asked many different types of questions from the initial process of looking into our cleaning services, throughout the hiring stage, and on a regular basis. If you are unfamiliar with the cleaning industry, you may question things such as what chemicals are being used, how often should your facility be cleaned, or how can you receive an accurate quote from a reliable company. If your interested in hiring an office cleaning company, it is a good idea to ask questions so you are informed on what types of services the cleaners will be providing. Get familiar with how the company operates and ask some of the following questions:
How did you assess my cleaning needs?   A representative from a commercial cleaning company will meet with you to assess your janitorial needs. They will do a walk-thru of your facility to determine what types of cleaning needs are beneficial. This can be determined on the size, space, number of employees, location, type of building, etc. If you are looking for general cleaning services such as trash removal, vacuuming, dusting and restroom cleaning, the cleaning company representative will need to figure out how frequently your facility should be cleaned. Also, the janitorial representative will keep an eye out for any specialty cleaning services that may need to be done. These specialty needs can include floor care, carpet cleaning, VCT stripping and waxing, machine scrub floors, upholstery cleaning, odor elimination,  and more.
How did you get the price for my cleaning quote?   An accurate cleaning quote is based on square footage, number of labor hours, and the condition of your facility. While the cleaning representative determines your needs, they will consider all of the above listed things that will contribute to your cleaning costs. Most commercial cleaning services will provide you with a quote depending on your facility's square footage. A knowledgeable and experienced professional will be able to figure how many hours it will take to clean your facility due to its size.
How can I make sure the cleaners are trustworthy? Thorough background checks of the cleaners should be completed by their employer. It's a good idea to request references. Get in touch with the cleaning company's references to check on their professionalism and quality of cleaning.
What does your company do for quality control? This should be a huge factor to consider when hiring a cleaning service. You want to feel comfortable knowing that the cleaners are being supervised, and that frequent inspections are occurring. Quality control is imperative in the cleaning industry because not only is it keeping the cleaners on task, but it provides its customers with assurance knowing that their facility is being maintained properly and cared for.
Who provides the cleaning supplies? Establish who is providing the cleaning supplies with your cleaning company. Consider purchasing the following sanitary supplies: Paper towels, toilet paper, soap, trash liners, hand sanitizer, toilet seat covers, air fresheners, tissues, etc.  The office cleaners should keep an eye on inventory and place orders when running low.  Cleaning products and chemicals should be provided by the janitorial service. An  outside cleaning service will save your company money because you don't have to spend extra on cleaning materials. It is common for cleaning services to use their own cleaning materials and take them with them when they leave. Doing this avoids having to create the space for additional cleaning materials in your facility.
How do I get a hold of the cleaner if we need an emergency cleanup? A facility manager will encounter many instances where an extra cleanup needs to take place. From coffee spills to water damage, your cleaning company should be on call for any emergency cleanup services. Communication can consist of either phone calls or e-mail at any time.
What types of special cleaning services does your company perform? Ask your cleaning company if they offer the following special cleaning services: Deep general cleaning, post construction cleanup, ESD floor care, odor elimination, carpet cleaning, floor maintenance, strip and waxing, upholstery cleaning, and day porter services.  A typical facility may require most of these additional needs.
For more information on janitorial services, call Apple Corps' professional commercial cleaners @ (781) 335-6900
"We don't cut corners, we clean them!"