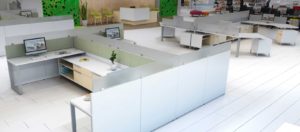 Commercial properties are long overdue for a deep office cleaning once summer ends. Change in weather and seasons often brings upon an abundant amount of allergens, dirt, and dust within the atmosphere. Consistent nightly cleaning will alleviate a buildup from occurring. However, without thorough janitorial services, it may cause a lot of dust and cobwebs, dirty floors, stained carpets, and more. When cleaning tasks accumulate, it creates more time and needs necessary to tackle the problem.
Throughout the summer, offices tend to open windows for a cool breeze. Some even have screen doors or keep them open, as well. This ultimately leads to more allergens creeping into the premises of a commercial building. Start off the end of summer clean-up with a checklist. Decipher what are your office's needs, the tools to tend to them, and the amount of labor and people necessary to do the job. Cleaning requires an experienced knowledge of what order things should be getting done and how to do them. A checklist will help balance out the scheduled rooms to be cleaned and what general tasks are in order.
A deep cleaning may include the following actions: Thorough dusting, de-cluttering, spot clean/wash walls, kitchen cleaning (interior and exterior of cabinets, refrigerator and all appliances, etc.), locker rooms (showers, grout, tiles, etc.), restroom cleaning, floor cleaning (carpeted surfaces, hard floors, VCT tile stripping and waxing), upholstery cleaning of chairs and furniture, window cleaning (exterior/interior), and much more.
All of these items should be performed when a commercial facility is closed to the public and not during work hours. This way, everything can get done without distractions and in a timely manner. Additionally, when floors are washed or steam cleaned, they can not be walked on for a certain period of time while drying.
Schedule a deep office cleaning the end of this summer today! Our experienced janitorial staff services facilities in Boston, South Shore, North Shore, and more. For a free estimate, call us at 781-335-6900.
Visit our link for a quick and easy free cleaning quote: https://www.applecleaning.com/3-minute-quote/cleaning-quote-for-office-industrial-school-health-clubs-houses-of-worship
"We don't cut corners- We clean them!"