Here's how to determine if you need professional cleaning in your office.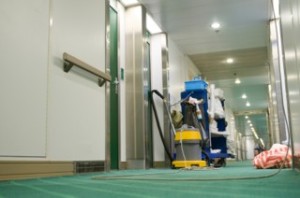 There are many key factors that contribute in determining what types of services may need to be performed. Here are common components to take into consideration: The size of your facility, amount of employees, restrooms, foot traffic, location, industry, and many more. There is a high demand for professional cleaning services when these factors come into play.
Size: More size means more space to be cleaned. Typically larger commercial properties require a higher amount of cleaning care. If a building has a high number of square footage, it may need cleaning on a more frequent basis; such as five to seven nights per week. On the contrary, if the building is smaller it may only need janitorial services performed once or twice per week.
Employees: Higher employee count means more office space is being used. Cubicles, desks, break rooms, restrooms, conference areas, offices, and more. All of these spaces in an office are typically occupied by employees. The more employees a company has, the more dirt and clutter that can accumulate throughout a commercial building; leading to a higher need for professional cleaning.
Foot Traffic: Carpets and hard floor surfaces endure foot prints, stains, smudges, and dirt every day.  Your customers and employees walk and travel through your business corridors. Depending on the amount of foot traffic that actually takes place, your carpets or floors could be potentially damaged if not properly cared for. Auto scrubbing, carpet cleaning, VCT waxing services, and other floor cleaning care are appropriate based on what type of foot traffic is taking place.
Location:  The location of your business my affect the cleaning frequency. If you are a tenant in an office building that shares space with others, you may consider hiring a cleaning service to take care of the janitorial services of your facility. Do you have restrooms that are open to the public? Are you set in a private location? These are things to review when deciding on cleaning help.
Industry: The type of industry can impact dirt buildup and cleanliness. A more industrial sort of setting, like a factory, may accumulate more dirt and grime within a commercial property. Whereas an office with desks and computers will have different cleaning needs. Medical facilities, clubs, gymnasiums and other similar health fields might mandate cleaning duties that other types of industries don't require. Your company's line of work can potentially determine the cleaning care suitable for your facility's janitorial needs.
Call today for a free office cleaning quote and to learn more about the janitorial services we have to offer: (781) 335-6900
"We don't cut corners, we clean them!"