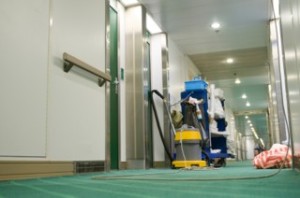 A lack of cleaning can lead to a disastrous chain of events. When a commercial facility is left untended or improperly care for, a downward spiral may occur within and potentially outside your company. Avoid this detrimental outcome from happening by having a professional cleaning service care for your facility's janitorial needs. Experienced staff attain the  highest level of commercial knowledge in the industry.
Cleaners didn't do their job? Janitorial staff didn't show up? Are office cleaners not doing all of the cleaning tasks on their list? See what could potentially happen when this takes place-
Let's start at the beginning. People become upset: Your customers, employees, building visitors, building owner, property managers. Every single person involved in your business is affected in some way by the lack of cleanliness.  Outpouring complaints, emails, phone calls and more are ways people seek a desire for change.  When time is spent on a complaint, this takes away from focusing on their on job. Unfortunately, less productivity is transpiring. Lack of concentration arises from the distraction of a dirty office. Dirtiness leads to poor sanitation. Poor sanitation inevitably causes employees to get sick from germs and allergens floating around the office.  Sick days hinder business from growing. Bad reputations are created from all of the complaints; which in return, lead to less business from accumulating.  Not only does a dirty office smell and look bad, it also downright creates a negative appearance to all. A commercial property represents your company. It's a home base where business is conducted.  If a facility is disgusting, what kind of reflection will that have on the business itself?  
Got cleaning concerns and issues? Ask us for a remedy! Not only do our professional cleaning staff care for cleaning needs, we also develop personalized cleaning tasks designed specifically for your office facility. Our ultimate goal is to eliminate any hassles, headaches, or eyesores that a lack of cleaning could cause.  Each building has its own needs for cleaning. Take control of how your commercial property looks. Appearance is not only important for aesthetic reasons, but also for your employees' health, focus, reputation, and happiness.
Call today for a free office cleaning quote: 781-335-6900
"We don't cut corners, we clean them!"