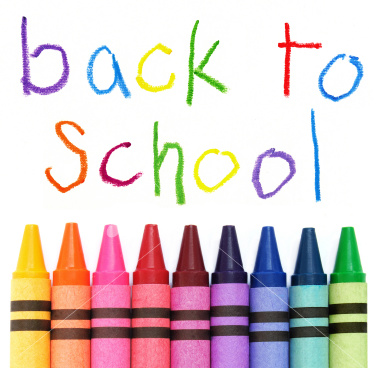 As summer comes to an end, students and parents begin to prepare to go back to school. Books, supplies, and other necessities are acquired before the few shy weeks of the school season. School requires studying and learning new knowledge and information. Like school, when a business is  looking for a new commercial cleaning service, you should educate yourself on some of the janitorial terminology. This way, you are prepared to discuss your cleaning needs with a professional office cleaning employee. Also, you will have a clearer understanding of what services the janitorial company will be providing you. Here are Apple Corps' ABC's of cleaning:
A: Attitude: An employee's attitude towards you and their work can effect the quality of cleaning. A cleaner should exhibit a positive attitude to attribute to their work. A positive attitude can lead to success and productivity in the workplace.
B: Benefits:  There are many benefits to hiring a cleaning service, including: Experienced staff in management and maintenance, professional highly trained cleaners, less stress in the office,  fewer sick days, and amazing customer service. At Apple Corps. there are no long term contracts and we guarantee that we will no raise our price for at least two years.
C: Carpets: Develop a carpet cleaning schedule with your janitorial company.  Depending on the amount of foot traffic and the condition of your rugs, they should be clean and deodorized at least once a year.
D: Dependability: Dependable cleaners show up to work every day and do the job right the first time.
E:  ESD floor care services: Like carpets, your floors should be cared on a frequent basis. Eliminate static and create a beautiful appearance by having your floor surfaces maintained.
F: Floor maintenance: Floor maintenance includes carpet cleaning, ESD floor care, stripping and waxing, and more. On a nightly basis, your floors should be swept, mopped, and vacuumed.
G: Great customer service: Apple Corp provides great customer service to our clients; Visit our customer care center at any time to grade the quality of cleaning along with any special cleaning requests at http://www.applecleaning.com/customer-care-center. Also, our supervisors and inspectors visit sites to ensure our customers'our highly satisfied with the cleaning service.
H: Honesty: Honesty IS the best policy. Honest, fair pricing is always guaranteed. Also, the cleaning team and staff should be trustworthy. Background and CORI checks are performed on all cleaners. Keep in mind, most janitorial services are performed after hours. This means the cleaning staff is provided with keys and alarm codes to access your work facility. You always want to make sure the commercial cleaning company are following proper safety protocol.
I: Inspections and supervision: After hour on-site inspections should occur on a frequent basis. Checklists and cleaning surveys are another great way to assess the quality of cleaning. Our highly trained staff provide professional management skills to keep the cleaners on track and our clients aware of any necessary cleaning services that need to be performed.
J: Janitorial services: Janitorial services are common cleaning tasks that should be provided by your cleaning team on a nightly basis including: Trash removal, floor care, vacuuming, dusting, restroom cleaning, replenishing supplies, spot cleaning, and more.
K: Kitchen and kitchenette cleaning: Don't forget to have your employee kitchen areas thoroughly cleaned on a frequent basis. This includes: Cleaning of the interior of refrigerators, wipe down of all appliances, shining stainless steel, cleaning of the interior of microwave, and necessary floor care services.
L:Lysol and other disinfectants: Germs and bacteria grow quicker than you may think. When an employee comes to work with a cold or flu, the whole office can be contaminated before you know it. To avoid employee sick days, the cleaning staff should wipe down all surfaces (especially frequently handled items) using Lysol or a similar disinfectant. Commonly handled items include: Light switches, door knobs, telephones, equipment, etc.
M:Management: The cleaning management team should inspect, supervise, and provide customer service to all clients. This ensures that all janitorial specifications are being performed on a nightly basis. Also, that the customer is completely satisfied with the cleaning of their facility.
N: Nightly cleaning: Based on the size of your facility, nightly cleaning should be happening after work hours. You don't want your own employees distracted by the cleaners. Our professional cleaning staff is provided with keys and will make sure you will arrive to a sparkling clean facility the next morning.
O: Odor removal: Often times, unwanted odors occur within a building. This can be due to water damage or other unusual occurrences within the facility.  Your office cleaning professionals have the tools and knowledge to eliminate odors in your work areas.
P: Post Construction Cleanup: Apple Corps provides professional post construction cleanup services to many companies throughout Massachusetts.  After a construction project, you should always have a commercial cleaning company come into your facility to prep your facility for move-in.,
Q: Questions: Do not be afraid to ask questions to your cleaning company. If you want to include additional cleaning to things not listed on your cleaning specifications, then ask. Don't hesitate to get answers you need. Apple Corps has 34 years of cleaning experience and knowledge. We can educate you on any cleaning questions you may have!
R: References: While searching for a new office cleaning company, be sure to ask for references. You want to make sure the cleaners are professional, highly skilled and trained, honest, and dependable.
S: Supplies: Apple Corps can manage and keep inventory of  your office cleaning supplies for you. We will order and have delivered any cleaning supplies you may need such as: Toilet paper, paper towels, soap, hand sanitizer, trash liners, air fresheners, and more.
T: Trash Removal: Trash should be emptied on a frequent basis. Make sure your office cleaners have included trash receptacle removal in the nightly cleaning duties.
U: Upholstery Cleaning: Like carpet cleaning, it is a good idea to have your upholstered furniture cleaned and deodorized at least once a year. Your customers and employees will appreciate using clean office furniture.
V: Vacuuming: Vacuuming should always take place during a routine cleaning.  Dirt, dust, crumbs, paper shreds, and other unwanted things accumulate on your floor surfaces every second throughout the day.  Professional office cleaners will vacuum and keep up with the cleanliness of your carpets and floors.
W: Wax: Stripping and waxing of your VCT floors should be scheduled on a yearly basis. Do you want shining, glistening, beautiful office floor surfaces? Hire Apple Corps, Inc. to strip and wax your VCT floor surfaces.
X: eXtra Care and Attention: What differentiates a good cleaning company from a bad cleaning company are ones that really care for their customers.  This can be shown through customer care services, supervision, inspection programs, and great employee workmanship. Choose a professional janitorial service that goes above and beyond with caring for their customers' needs and pays attention to satisfying and keeping their customers happy.
Y: YOU: You and your work facility's cleanliness should to be on your cleaning company's top priority list.  Apple Corps strives to ensure our customers are fully happy with the cleaning services they are being provided.  We reach out to our clients every few weeks to chat about how the cleaning is going and if they are satisfied.
Z: Zzzzz: Don't snooze on your decision. Apple Corps is the right choice. Call us today to find out how we can provide A plus grade quality office cleaning services to your work facility.
781-335-6900
"We don't cut corners, we clean them!"