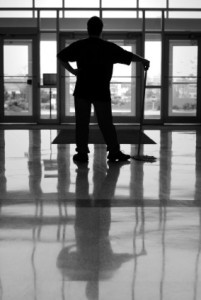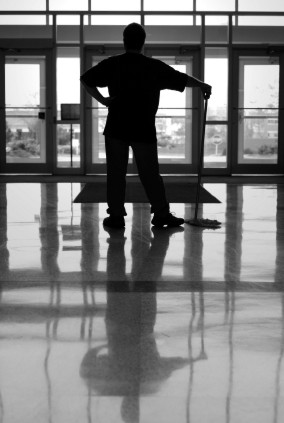 Let's face it, if you don't know much about the cleaning industry, you may find it to be a stressful process when searching for a commercial janitorial service.  How do you know which cleaning company is the best fit for your office? Follow our guide to ensure you choose the right service for all your cleaning needs.
1.) What kinds of cleaning services does the company provide?
Be sure to hire a company that offers general cleaning services such as trash removal, restroom cleaning, dusting, mopping, window cleaning, etc. In addition, find commercial cleaners that are skilled in floor maintenance needs like stripping and waxing, machine scrubbing, and carpet cleaning. Your carpets and V.C.T./tile floors should be cared for several times throughout the year. The janitorial service you hire should be experienced in all degrees of floor maintenance.
2.) Is the commercial cleaning company reputable and professional?
Always ask for references. You want to make sure the business you hire have experienced, skilled, and trained janitors cleaning your facility. Call their references and make sure the cleaning service is highly recommended and qualified.  Meet with the cleaning staff and make sure they are a right fit for you.  Consider a company that is reliable and one that has good communication skills. If you ever need an emergency clean-up or have a special request, you want the option of picking up the phone and calling the cleaning company, or e-mailing at any time. The best cleaning companies are the ones who focus on their customer needs and strive for the best quality of service.
3.) Does the janitorial company provide supplies?
Hiring a commercial cleaning service eliminates your task of  buying, maintaining, and replenishing supplies. With one less thing to worry about, a cleaning service can monitor and order all necessary cleaning items for you. These supplies might include trash liners, paper towels, toilet paper, soap, Kleenex, etc. A cleaning company should always maintain a clean janitorial closet stocked with supplies and their cleaning tools (vacuum, mop, mop bucket, disinfectants, etc.)
Apple Corps, Inc. has been providing commercial cleaning services for 34 years in Massachusetts. Call today to see how our professional cleaners can meet your cleaning needs and expectations @ (781) 335-6900
"We don't cut corners, we clean them!"