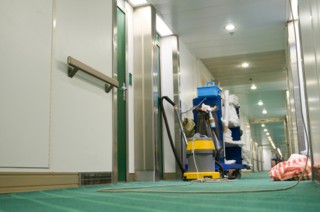 A professional office cleaning company's goal is to satisfy their customer's cleaning needs. The best way of gaining customer happiness is by providing exceptional cleaning services. A properly trained, experienced janitorial staff will be able to work their cleaning magic. Your cleaners should be following a list of office cleaning specifications to make sure all duties are getting done. This technique allows cleaners to stay on track while on the job.  Quality control methods should be enforced within a company to ensure that all cleaning duties are being performed, as promised. A professional commercial cleaning service should have after hour site inspections for quality control.  Unfortunately, if a cleaning company does not administer supervision or skilled training, many cleaning duties might be missed. In the janitorial world,  this happens far too often. Read below some of the top ten things that go unnoticed during an office cleaning.
---
10 THINGS THAT GO UNNOTICED DURING AN OFFICE CLEANING
Floors: Floors require more than a quick vacuum or sweeping. Some even need a machine scrub based on the severity of its condition and usage. Remember; SHOES SPREAD GERMS. We track in an unbelievable amount of bacteria, dirt, and grime all day long. Our shoes are a breeding ground for thousands of strands of bacteria: Dirt, feces, bugs, and more.. yuck! Stop the spread of these gross germs by caring for your floors on a nightly basis.
Door handles: Not only do door handles act as an opening and closure fixture; door handles resemble an agent for a bacteria and germ-filled haven. Door handles are so frequently touched, that it's hard to keep up with amount of germs that get passed onto them throughout a work day.  Cleaners should be wiping down door handles for sanitation purposes. The disinfection process can decrease the risk of cold viruses from spreading around the office. Eliminate sick days by having your cleaning team wash and disinfect all door handles in your work facility.
Light Switches: Like door handles, light switches are prone to obtaining germs from being flicked multiple times during a work day. Lysol, or a similar disinfect, is a great way to kill any bacteria that may be living on a light switch. Your cleaners should be wiping down the office light switches at least once a week.
Underneath track mats: A lazy, or inexperienced cleaner, will forget to lift track mats while vacuuming or sweeping floors. Sand, dirt, mud, and other unwanted things may get trapped under a track mat. Because a track mat is typically placed in an entrance doorway, they are often times the first areas of an office to be physically walked on.  Foot traffic can create bundles of dirt buildup on and under track mats. Office cleaners should lift track mats off the floor to reach all points of the floor surfaces.
High ceilings: High ceilings are bypassed frequently because tall heights seem unapproachable. These surfaces are often ignored because one may think that dirt can dust can't accumulate on such high spaces. However, cobwebs and dust will rapidly appear the longer you wait to clean this area. Extendable feather dusters are a great tool for wiping away the mountains of cobweb.
Furniture: Upholstered furniture should be cleaned and deodorized on a frequent basis. Coffee spills and food stains usually linger on office furniture surfaces. Ask your commercial cleaning company if they can provide furniture cleaning services to you. Set up a schedule and have the cleaners monitor when it's time to have your furniture washed.
Walls: Spot cleaning of walls should occur in order to control spots and stains on wall surfaces. High and low areas should be checked on a routine basis to maintain pristine cleanliness. Cobwebs form on wall surfaces if not dusted regularly. Feather duster or microfiber clothes are great tools to clean walls.
Kitchen Appliances: Refrigerators, Microwaves, Stove tops, Oven, and more. Exterior of kitchen appliances are typically covered in crumbs, grease, cooking oil, and food related splashes. Do your cleaners care for your kitchen appliances? If not, set up a schedule to have these office kitchen items washed in order to sustain cleanliness.
Sinks: Sinks harbor massive amounts of germs and bacteria. It's an area that needs to be cleaned during a nightly cleaning because it is a space used for cooking and washing hands or kitchen related items. A sink should be cleaned just as often as a toilet should. Make sure your cleaning staff are taking care of all sink surfaces in your work facility.
Corners: Corners are sometimes tucked behind doors or  hidden behind trash barrels, filing cabinets, and furniture.  This should not be an excuse for your cleaners to ignore these spots. Wall corner surfaces should be dusted and wiped down frequently to prevent dirt and dust buildup.
Apple Corps, Inc. provides professional cleaning services in Massachusetts. We have 34 years of experience in the commercial cleaning industry. Call today for a free office cleaning quote (781)-335-6900
"We don't cut corners, we clean them!"